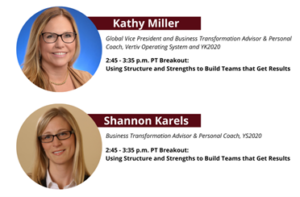 Women in Manufacturing West Region "Thought Leaders"
We had another great experience speaking with participants in WiM, this time in the first-ever West Regional meeting.  Kathy and I shared our experiences of accountability, structure, inclusivity, optimism, coaching, and fun to build highly successful teams while achieving great results.  We also discussed how our leadership traits helped our success and how others can recognize and utilize their strengths to achieve their goals.
The participants engaged with quite a few questions on integrating family into our work lives, work-life balance, and the change management cycle.  It was energizing to find so many others that are passionate about creating positive cultures in the workplace!
You can view our presentation on our website www.opsisters.com to learn more about our views on creating a culture of engagement, guiding principles we used, as well as some of the tools and techniques that lead to our success.
The WiM community named its speakers "Thought Leaders," which triggered Kathy and me to reflect on that insightful view of those sharing their experiences.  We hope, as speakers, that we can inspire others to take away something from our experiences that can be applied to their worlds.  But just as importantly, we strive to encourage a different way of thinking.  Then based on feedback and questions, others initiate new thoughts for us.  It's an invigorating process to be a part of, and we look forward to being "Thought Leaders" in many more discussions!